TAM's Health and Safety software makes compliance much easier
Comprehensive, paperless Health and Safety system
TAM is proactive and prompts you with email/text alerts
TAM fosters good risk management throughout your organisation
Clear, instant visibility of what is not being done as stated
Peace of mind for directors, management and employees alik
TAM cuts costs and improves efficiency
Sophisticated task management – TAM makes sure things get done!
TAM eliminates time-consuming and routine follow-ups
Use TAM to build long-term operational routines
Organise staff training on TAM
Internal messaging service
Shift management tool
Document sharing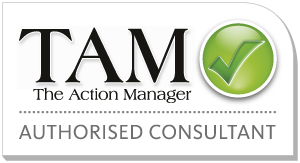 Health and Safety does not have to be complicated!
Health and Safety made easier and less time consuming
TAM automates much of the Health and Safety process
TAM lets you know what needs doing and when
Dashboard highlights your compliance issues
Fosters good ongoing risk management and offers peace of mind for directors and employees alike
Health and Safety Management Software
TAM offers a comprehensive yet simple approach to Health and Safety compliance
Many Health & Safety software solutions are little more than expensive word processors for Risk Assessments.
The TAM Health & Safety software, on the other hand, offers a great deal more than just Risk Assessments. TAM is about helping companies comply with as much of the basic Health & Safety legislation as possible and to make this process as simple as possible.
Legal requirements that the TAM Health & Safety software will help your company manage
Company Statement of General Policy
Site specific Health & Safety Policy and Health & Safety responsible persons
Health & Safety Committee, consulting your employees, Health & Safety meetings, agendas, minutes of meetings and follow-up
Health & Safety Hazard Spotting and ongoing risk management in the workplace
Health & Safety Law Poster
Employers' Compulsory Liability Insurance
Risk Assessments
Approved chemicals and COSHH Risk Assessments
Safe Systems of Work, staff training, Health & Safety training requirements, training organisation and maintaining training records
Fire Risk Assessment, fire safety management, maintenance and record keeping
Accident reporting and RIDDOR
Personal Protective Equipment (PPE) arrangements
First Aid arrangements
Although some of these requirements only relate to companies with more than four employees, most of the above points address one or more legal requirements that all employers must comply with.
Click on the links on the scroll down menu to the left to learn more about each one of these topics.
Health and Safety compliance – ignore it at your peril!
At TAM, we believe that, in this day and age, most companies genuinely concern themselves with their employees' welfare, health and safety. Yet, many of the very same companies still fail to comply with Health and Safety legislation.
In doing so, not only is the company itself exposed, but its directors and managers could personally – as individuals – face criminal charges, jail and significant penalties should there be an accident in their workplace and the company's Health and Safety procedures found to be lacking.
To stay compliant with the ever increasing Health and Safety legislation is becoming more complicated by the day. Additionally, people suing companies for damages are on the increase, especially so with the growth in specialised law firms heavily promoting "no success – no fee" to injured parties with potential claims.
In other words, if your company is overlooking its Health and Safety responsibilities, one accident is all it takes to potentially cause serious trouble for you and/or your company.
These are some typical concerns amongst businesses today
Many companies who understand the importance of trying to stay compliant – and the potentially severe repercussions if they don't – often report that they find Health and Safety a costly and time consuming exercise that detracts from getting on with the actual running of their business Here are some other concerns voiced by businesses about Health and Safety:
"Health and safety is simply taking up too much of my time. Sometimes it feels like all I do is chase after people on health and safety matters."
"We employ Health and Safety consultants that help tell us exactly what we need to do, however, how can we ensure their recommendations really get carried out properly in-between their visits to our company."
"Regardless of who's at fault, if there is a problem relating to Health and Safety, the responsibility for the problem always seem to float to the top of the company."
"Our Health and Safety system is based on hardcopies of the health and safety policy, risk assessments, staff training records, etc. As a result, we are swamped with documents relating to Health and Safety and, although we do what we can to stay compliant, we find it almost impossible to ensure everything gets done the way we stated it would be done in our documentation, which is very worrying."
"We find the administrative burden caused by Health and Safety overwhelming."
"I am a director of a large company which operates several sites spread over a large geographical area, and I am concerned about all the loose ends in our Health and Safety work. We have numerous risk assessments at each site and I worry about actions and training requirements that have been specified, but are not being carried out properly. I dread the prospect of an accident happening that will expose our deficiencies."
"When we carried out our last internal Health and Safety audit we found contradictions in the documentation, which could really have put us on the spot had there been an accident."
"It's almost impossible to keep track of things such as who has received what Health and Safety training, and who has signed off on it? We simply don't have, and can't afford, the resources to keep track of all the Health and Safety admin."
We don't believe Health and Safety has to be complicated or time consuming
In the past, we may have sympathised with the people's comments above, but we now believe the TAM Health and Safety software can help solve most of these concerns.
TAM offers all types and sizes of organisations a cost effective and comprehensive way of dealing with Health and Safety and, whilst we can't guarantee 100% compliance with every single Health and Safety regulation, we can promise that TAM will make overall compliance a great deal easier.
Our objectives when developing the TAM Health and Safety management software
When we embarked on the creation of TAM's Health and Safety Management software, we set ourselves the following objectives
In addition to these specific objectives, we also wanted to create a Health and Safety software that would:
Encourage an ongoing process of Health and Safety management in the company to ensure long-term compliance
Offer a pragmatic and simple, yet comprehensive coverage of Health and Safety compliance requirements
Provide a structure that would make it easier for companies to understand what is expected from them in terms of Health and Safety compliance
As far as possible, remove the dependance on hard copy documentation
Automate the process and eliminate loose ends wherever possible
Ensure all the Health and Safety documentation is easy to update and keep current
Make sure that what is stated in your Health and Safety documentation as needed to be done, really does get done!
We believe the TAM Health and Safety software achieves all of these objectives.
TAM wants to encourage an ongoing process of Health and Safety management
We firmly believe that good Health & Safety management needs to be an ongoing process in order for compliance to be successful on a long-term basis.
The main benefit of this approach is that Health and Safety management then also becomes less overwhelming and disruptive to the running of the actual business. In other words, adopting a slow but steady approach will make it a great deal easier for companies to incorporate Health and Safety into the ongoing management of their real day-to-day business.
This is how TAM encourages Health and Safety to become a gradual, ongoing process
We start with the Health and Safety Policy. Every company with more than four employees needs to have one, and it needs to be site specific (i.e. if your company has six sites, you will need a site specific Health and Safety Policy for each of the six sites).
The purpose of the Health and Safety Policy is to establish the persons responsible for the various aspects of Health and Safety in the workplace. Our recommendation is to keep it simple and that the people listed in the Health and Safety Policy are also members of your Health and Safety Committee. As the Health and Safety Policy and all Risk Assessments need to be site specific, TAM allows for the Health and Safety Committee to be site specific as well (i.e. one Committee per site).
TAM is organised in such a way that the Health and Safety Committee deals with many aspects of Health and Safety on site.
The Health and Safety Committee then meets regularly to ensure steady progress is made on Health and Safety. TAM allows for the company to set standard agenda items for its Health and Safety Committee(s) to ensure that key elements of Health and Safety are reviewed regularly (e.g. the review of Hazard Spotting, accidents reported and so on). The company can even stipulate the frequency of how often it wants its Health and Safety Committee(s) to meet (e.g the Health and Safety Committee needs to meet at least once a quarter) and TAM will then automatically flag up if this does not happen.
These arrangements all help to ensure a smooth ongoing process of Health and Safety management see further Health and Safety Committee, Hazard Spotting)
Other ways that TAM will simplify Health and Safety for you
To help make it even easier for you, the TAM Health and Safety software automates much of the processes.
Hence, much of the administration and record keeping related to the above is handled automatically by TAM and, as with the Operational Management module, TAM will help you track actions until they are completed.
Another way that TAM helps companies with more than one site to save time and money is by providing a template function allowing TAM customers to create their own templates of various documents, such as Risk Assessments, which can then be downloaded by each site and adjusted, if necessary, to suit each site's specific requirements.
This way, each site does not have to reinvent the wheel for every Risk Assessment they create, and companies with more than one site can control the quality and content of its documentation, yet still comply with the legal requirement that the documentation is site specific.
What do I do with all the Health and Safety documentation I have already produced?
If you already have existing Health and Safety documentation in place, and provided you have an electronic copy of it, the content of these documents can easily be copied across and incorporated into the TAM Health and Safety software with a minimum of disruption.
The TAM Health and Safety software offers peace of mind
Whether you have been identified as a Health and Safety responsible person in the Health and Safety Policy, appointed to the Health and Safety Committee, or are the site or company responsible person for Health and Safety, a senior manager, director or shareholder, you can take comfort from the fact that TAM is helping you look after Health and Safety in your business.
The primary purpose of the TAM Health and Safety software is to make sure that those things that should get done, do in fact get done properly. And, if they don't, there is a particular process for Health and Safety related matters that ensures senior management are promptly informed of any missed deadlines.
As a result, TAM will ensure the Health and Safety work continues in your company without constant monitoring and chasing after people, and you will be informed of any problems that occurs. As time consuming follow-up is done for you by TAM, more time is freed up for you to concentrate on the actual running of your business.