Description
Are you complying with Regulatory Reform (Fire Safety) Order 2005?
Did you know? If YOU are a business Owner, a Director or a Managing Agent you could face prosecution or even imprisonment for failing to comply with the Fire Safety Order.
The importance of a Fire Risk Assessment?
A Fire Risk Assessment is required to meet wit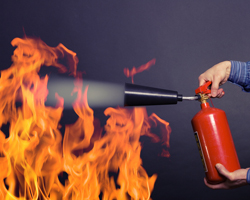 h The Fire Safety Order 2005 – UK Fire Regulations. The fire safety order is aimed at simplifying the fire safety process, while at the same time placing a greater onus on a business owner to carry out a fire risk assessment. This means that the responsibility for complying with the Fire Safety Order rests with the 'responsible person' (i.e a business owner).
What we will do to help
We will look at the major fire risks to your business and work with you to deliver smart solutions that take away the complexities of today's fire safety rules and regulations.
We have the experience where it counts
Comply UK Cambridge Fire Risk Assessors have extensive experience in a wide range premises such as Manufacturing,  Aerospace & club houses, Warehouse's and Industrial Units, large Shopping centres, Offices, Garages, Care Homes, Colleges and Schools, Blocks of flats and Retail Shops.
I'm interested what do I need to do?
In order to ensure that your organisation understands and complies with The Fire Safety Order 2005 there are several things you can do:
Contact us for expert advice
Useful Technical and Legal Information…
Who is a Duty holder?
In a workplace this is the employer and any other person who may have control of any part of the premises, e.g. the occupier or owner. In all other premises the person or people in control of the premises will be responsible for a fire risk assessment.
Please note; under these regulations their must be a legally designated "responsible person" who must arrange for a fire risk assessment, to identify any possible fire risks and deal with them.
The Duties of the Responsible person
The "responsible person" is an individual who has control, or a degree of control, over premises or fire-prevention systems within premises (this could even be a contractor in control of the fire alarm/protection system). If you are the responsible person, you must ensure that everyone who uses/visits your premises can escape in the event of a fire.
It is YOUR responsibility, under law, to undertake a Fire Risk Assessment for YOUR business or premise's.
It is NOT a responsibility or duty of the Fire Service to do it for you. You must also review it on a regular basis.
What is a Fire Risk Assessment?
A fire risk assessment is a method to help determine the chance of a fire occurring in the workplace. This is accomplished by looking at the factors in your work activities and workplace that could cause harm. From the fire risk assessment precautions can be determined to ensure that fire risks are reduced to prevent fire from occurring.
The fire risk to be assessed:-
The risk to persons being trapped by fire, injured as a result of fire, or harmed by fire whilst they make an escape:
Identify hazards and sources of ignition
Assess whether any fire that could occur would endanger persons and their escape
Decide what action is required to reduce the risk of harm
Check compliance with statutory requirements (UK fire regulations)
Draw up prioritised fire risk action plan to resolve deficiencies
Establish fire risk assessment review dates
Who should undertake a fire risk assessment?
As with any risk assessment in this case fire risk assessment it needs to be suitable and sufficient to ensure the risks are clearly identified.
It is essential that the person conducting the fire risk assessment is competent to carry out the task and has access to relevant information and support. A competent person would be regarded as someone who is trained, experienced and skilled in fire safety.
Extract from the Regulatory Reform (Fire Safety) Order 2005
Risk Assessment
9. (1) The responsible person must make a suitable and sufficient assessment of the risks to which relevant persons are exposed for the purpose of identifying the general fire precautions he needs to take to comply with the requirements and prohibitions imposed upon him by or under this Order.
Failure to comply with this legal requirement could mean you have broken the law.
Fire guidelines
For a fire to start three elements are required; an ignition source,fuel and oxygen. A fire cannot start if one of these is missing. Therefore, it is important that a fire risk assessment is undertaken and steps are taken to prevent all three coming together.
Why are Fire Safety Regulations so important?
Put simply fire kills and causes injury. As well as the humanitarian costs there can be high financial costs due to material and structural damage to buildings and potential legal costs, which is when a fire risk assessment is carried out could help prevent this from occurring.
The Fire Regulations require a Fire Risk Assessment
Until October 1st 2006 there were over 70 pieces of UK fire Regulations which included the Fire Precautions Act 1971 (FPA 1971) and the Fire Precautions (Workplace) Regulations 1997 as amended. The Regulatory Reform (Fire Safety) Order 2005 is now in force, which will amend and consolidate those pieces of UK Fire Regulations / legislation relating to fire safety.
If you do not feel confident that there is someone within your organisation that meets the criteria above, then you should seek help from our fire consultant servicing both the Cambridge and UK, whom have professional expertise in the field of fire risk assessment.