Description
Noise Assessment is a complex issue and one that benefits from competent advice. Whether you require workplace noise assessment in compliance with the New Control of Noise at Work Regulations 2005 or an environmental noise assessment in compliance with PPG24 planning requirements, we can help.
Comply UK Cambridge have specialists who have attained the relevant professional qualifications and experience. Our noise assessment consultants are able to carry out assessments to meet legislative requirements, and can help you find practical solutions to your problems.
For a free quotation or more information about the noise assessment services we can offer, please call John Buckley on 0845 3881751, email or use the contact form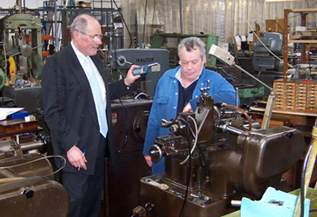 Noise Assessment at Work
By law, as an employer, you must assess and identify measures to eliminate or reduce risks from exposure to noise so that you can protect the hearing of your employees.
Where the risks identified by your noise assessment are low, the actions you take may be simple and inexpensive, but where the risks are high, you should manage them using a prioritised noise-control action plan.
The Control of Noise at Work Regulations 2005 were laid before parliament on 28th June 2005 and came into force on the 6th April 2006 in all sectors except for the music and entertainment where they shall not come into force until 6th April 2008.
The Regulations tighten the legal requirements in relation to noise by lowering the exposure action values to 80 and 85 dB(A). Whilst this may not appear to be a large change it is important to realise every 3 dB doubles the noise, so what might seem like small differences in the numbers can be quite significant.
The Noise Regulations 2005 require employers to prevent or reduce risks to health and safety from exposure to noise at work and in particular to:
assess the risks to employees from noise at work;
take action to reduce the noise exposure that produces those risks;
provide employees with hearing protection if they cannot reduce the noise exposure enough by using other methods;
make sure the legal limits on noise exposure are not exceeded;
provide employees with information, instruction and training;
carry out health surveillance where there is a risk to health.
Employers who have already undertaken noise assessment will need to review their noise assessment findings to determine what action they need to take to comply with the lowered exposure action levels.
Comply UK Cambridge can undertake:
Workplace Noise Assessment;
Personal Noise Exposure Assessment; and
Noise at Work Training.
A copy of the Noise at Work Regulations 2005 can be downloaded at
http://www.opsi.gov.uk/si/si2005/20051643.htm
Further information on noise at work can be found at
http://www.hse.gov.uk/noise/index.htm
Environmental Noise Assessment
Noise issues are often overlooked at the design and planning stages of a development project leading to operational problems, nuisance complaints, and poor performance.
It is now more common for Local Authorities under section 60 of the Control of Pollution Act to specify noise levels that can be emitted from construction sites.
The costs of poor acoustic environments are often hidden but can be significant (e.g. consider speech intelligibility in a poorly designed school classroom).
The Town and Country Planning (Assessment of Environmental Effects) Regulations requires environmental assessment (including noise assessment) for certain types of project to be carried out before planning permission is granted.
When assessing a proposal for residential development near a source of noise, planning departments must determine into which of the four noise exposure categories the site falls, taking account of both day and night-time noise levels.
As noise problems are expensive to rectify, it pays dividends to ensure that acoustics and noise control are properly considered prior to construction.
Safetymark can undertake:
Environmental Noise Assessment (PPG24)
Noise Monitoring – Section 60 / 61 Control of Pollution Act 1974
Negotiation of planning constraints
Advice on noise mitigation
For a free quotation or more information about the noise assessment services we can offer, please call John Buckley on 0845 3881751, email or use the contact form
A copy of Planning Policy Guidance (PPG) 24 can be found athttp://www.odpm.gov.uk/index.asp?id=1144098