Description
This Infection Control and Prevention Training Course is designed to raise awareness of the importance of minimising the risk of infection in the workplace in order to prevent diseases from spreading and comply with legal responsibilities under the Public Health Regulations, RIDDOR 2013 and the Health and Safety at Work Act 1974.
Infections are often easily dealt with but sometimes, if they are not managed effectively, they can create serious problems. This course aims to provide an understanding of the legal obligations, the techniques for undertaking an infection control risk assessment and explains the essentials for maintaining a hygienic working environment, including how to ensure the correct hand washing procedure is followed.
Subjects covered:
General introduction  
Micro-organisms, infection, the chain of infection, pathogens, causative agents, transmission, way in/out and susceptible hosts.
Reducing the risk of infection  
Standard precautions, risk assessment, personal/hand hygiene, PPE, blood and body fluids, equipment, environmental control, safe disposal of waste, safe handling of linen and appropriate case placement.
Putting it all together – managing and reducing the risk
Standards, documentation, quality assurance, management/worker roles and responsibilities, barriers to infection control, law/guidelines and Health Protection Agencies.
Who Should Take this Infection Control and Prevention Course?
This online Infection Control and Prevention training course is suitable for all levels of employees, including managers, full-time and part-time workers, who have responsibilities for minimising the risk of infection in their workplace.
This includes, but is not limited to, occupations such as:
Medical staff
Care workers
Cleaners
Laundry workers
Refuse workers
Hairdressers
Chiropodists
Butchers
Farmers
Vets, kennel or cattery workers
---
Do You Comply with Infection Control Regulations?
The Reporting of Injuries, Diseases and Dangerous Occurrences Regulations (RIDDOR) 2013, the Public Health Act 1984 and the Public Health Regulations 1998 put duties on employers to ensure certain accidents, diseases and near misses are reported appropriately. They also make it a legal requirement to ensure workplaces are appropriately cleaned and disinfected to control the spread of disease.
Under Section 2 of the Health and Safety at Work Act 1974, employers have a further duty to provide training for their employees to ensure, so far as is reasonably practicable, their health and safety at work.
This course helps you to comply with these regulations by providing workers with appropriate and relevant knowledge in order to keep the workplace safe from infection.
---
Certification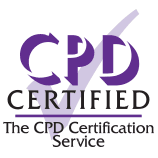 On successful completion of the course you will be sent a quality assured certificate through the post the next working day. This can be used to provide evidence for compliance and audit.
All of our courses are accredited by the CPD Certification Service as conforming to universally accepted Continuous Professional Development (CPD) guidelines.